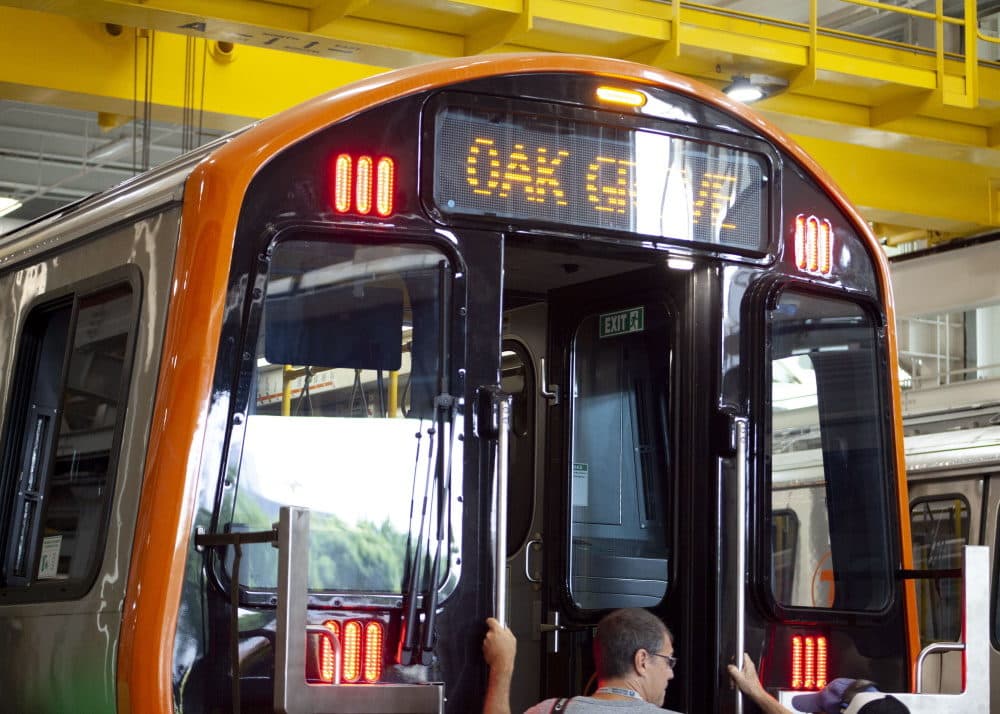 MBTA says new Red Line cars are delayed again
Editor's note: This is an excerpt from WBUR's daily morning bulletin, WBUR Today. If you like what you read and want it in your inbox, register here.
---
TGIF! Today is the last day of the week, the last day of the month, and the last day of our fall fundraiser. If WBUR is making a significant difference in your life, please consider donate today!
If you took the orange line at all since it reopened last week, you'll notice one stark difference: no old cars. As MBTA chief executive Steve Poftak said at a meeting yesterday, the 72 new Orange Line cars currently in service – almost half of the total amount the T expects to get by next summer – were enough to run "all new cars all the time". in the last 11 days (although you will still see old cars from time to time). This is a long-awaited moment for Orange Line users. However, for Red Line drivers, the wait for new cars is only getting longer.
MBTA officials said Thursday that full delivery of new Red Line cars has been delayed another year. CRRC, the company responsible for building the new cars, does not expect to complete the job until September 2025. (The original plan was to get the 252 new cars by September 2023; it was pushed back to 2024 in 2020 .)
What is the delay? T officials said CRRC recently focused on new Orange Line cars. But the problems run deeper than that: the pandemic, staff shortages, supply chain issues and the extra time it takes to go back and fix all miscellaneous mechanical issues that have arisen in new cars.
The first new Red Line car debuted at the very end of 2020. However, it has been pulled over for repairs several times and rarely runs (it has been on the tracks only once last week).
Officials aren't happy with the situation — or the CRRC. "We expect better," said Transport Secretary Jamey Tesler, who said they would push to speed up delivery of the new cars. At the very least, they plan to collect hefty fines from the CRRC for the delays.
In the short term, the T is also focused on infrastructure upgrades to the redline – and that means some diversions in the coming days. This weekend, shuttles replace rail service between JFK/UMass and Broadway due to work on the bridge. And then, from Monday to Thursday, the Ashmont section of the line will be close early each evening at 8:45 p.m. for track work (buses will be underwater again).
Some Massachusetts voters you may notice an additional question on their ballot this fall. WBUR's Aimee Moon reports that there's an advisory question in 20 local House districts asking residents whether or not they want the legislators' committee votes made public.
The ballot issue is non-binding, so it will not force any rule changes. But it could send a message to state lawmakers about how their constituents feel about the current procedural rules — which have long been criticized for not being transparent enough. (Supporters of the status quo Argue that disclosure of committee votes could lead to misinterpretation of their positions.)
There's also a nonbinding ballot question in 20 districts asking voters if they want their lawmakers to push for the creation of a single-payer health care system in Massachusetts. You can see if any of the questions are on your district ballot here.
Boston Mayor Michelle Wu Thursday announced an executive order aimed at streamlining the approval process for affordable housing developments in the city.
Wu says the current process takes an average of 337 days — 11 months — from start to finish. His five-part decree aims to cut that time in half by creating an alternative permitting process for affordable housing projects and implementing zoning changes that remove barriers to building them.
Message of public interest : Today is your last chance of the year to dine out in the North End. Restaurants will line up these patios on the street for the season tonight, as the neighborhood's outdoor dining program comes to an end.
The good news: Other Boston neighborhoods can still use public streets and sidewalks for alfresco dining through December. If you're looking for a spot this weekend and beyond, check out this map of all the outdoor restaurants in town.
PS— Do you know what utility bill will rise sharply for many Massachusetts residents? Then take our Boston News Quiz and test your knowledge of the local stories we've covered this week.