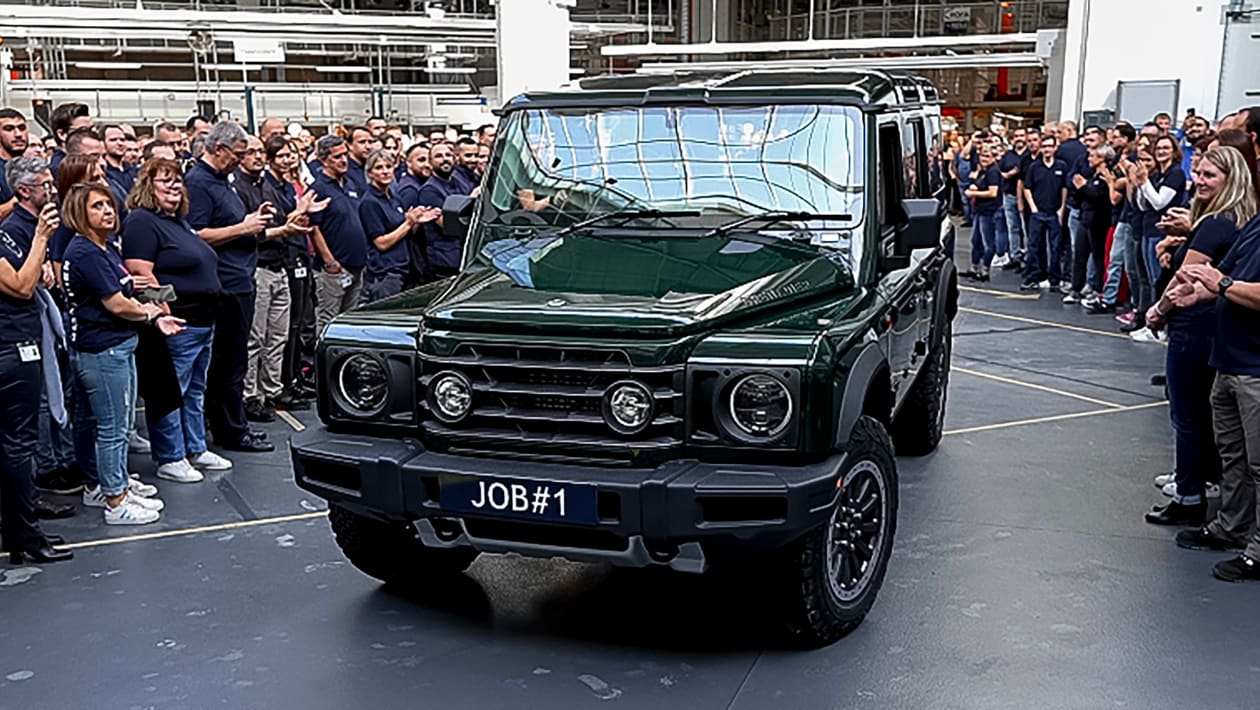 New Ineos Grenadier 2022 production begins with first deliveries in December
The first customers of the new Ineos Grenadier off-roader are about to receive their cars, with the first examples completed at the company's Hambach plant this month. The Land Rover Defender-inspired 4×4 costs from £49,000 and first deliveries are expected in December this year.
Ineos has secured a network of over 200 sales and service sites around the world to facilitate deliveries and after-sales of the SUV, which will hit the road before the end of 2022 despite supply chain constraints limiting production.
Buyers can order the Grenadier online or through one of 23 UK-based retailers, with the choice of an entry-level "Utility Wagon" two-seater model as well as a five "Station Wagon" seats at £52,000. Ineos is also offering two pre-configured Grenadiers called the 'Trialmaster' and the 'Fieldmaster', both priced at £59,000. The company says the Trialmaster was "specified for extreme off-roading" and the Fieldmaster "is designed for those with an adventure lifestyle."
The Fieldmaster Edition comes standard with the Smooth Pack, and the Trialmaster gets both the Smooth Pack and the Rough Pack. On lower models, the Smooth Pack costs £1,365 and the Rough Pack adds £1,685 to the base price.
The Rough Pack adds front and rear differential locks, BFGoodrich all-terrain T/A KO2 tires, a raised air scoop, exterior utility belts and an auxiliary battery. The Smooth pack includes a rear-view camera, puddle lamps, electric heated door mirrors and auxiliary USB power outlets. There are also standard 17-inch alloy wheels (there's an option to upgrade to 18-inch wheels), Safari windows and heated front seats.
There are other customization options, such as a raised off-road air intake, rock sliders and a heavy-duty winch. Buyers can also opt for a roof rack and front LED light bar for an additional cost.
Ineos promises customers will never be beyond a 45-minute or 45-mile radius of a service center, and test drives can be arranged depending on customer needs. Servicing will be provided by selected Bosch Service Centers, and technical support for those working on their own Grenadier will be available via direct access to Ineos headquarters with interactive online manuals and videos.
The brand operates under an agency model with its retailers, rather than a traditional franchise system. This means the contract is between the buyer and Ineos rather than the retailer, with the dealer used for demonstration, delivery and after-sales. Even the parts exchange process has to be done by the manufacturer rather than the dealership.
Le Grenadier was designed by Toby Ecuyer, who began his career as an architect and recently moved into designing super yachts. It shares the same boxy proportions as the old Defender, with similar angular doors and windows. It also shares the Land Rover's slatted grille, flat bonnet, round headlights and straight windscreen – and, under the front bumper, there's a thick protective casing.
Ineos claims the Grenadier has a ground clearance of 264mm and a paddling depth of 800mm.
Elements of the Mercedes G-Class are also integrated into the design of the Grenadier, which is not surprising given Ineos' partnership with Austrian engineering company Magna Steyr. The company has managed production of the G-Wagen since 2018 and will also help Ineos rebuild the Grenadier.
Ineos purchased two BMW engines to power the Grenadier. Both are 3.0-liter turbo six-cylinders. There's a diesel with 246 hp and 550 Nm of torque, and a petrol engine with 281 hp and 450 Nm. The price remains the same for each powertrain. Permanent four-wheel drive with switchable low range and a central locking differential is Ineos' own design, but power is transferred via an eight-speed ZF automatic gearbox. There is also potential for a hydrogen Grenadier, with Ineos hoping to test the technology in its 4×4 this year after a £1.7billion investment.
Inside, the vehicle takes a rugged approach that combines functionality and durability with the latest technology and plenty of comfort, the company claims.
Almost every element of the Grenadier was designed from a blank sheet of paper, including the cabin. With the car's emphasis on ease of use in the most extreme conditions (eg when wearing gloves) – both as a utility vehicle and lifestyle off-roader – the cabin of the Grenadier features large buttons and controls inspired by maritime layouts and heavy machinery, according to Ineos Automotive design manager Toby Ecuyer.
The idea behind this approach is to increase the usability and logic of the layout; With that in mind, each switch is labeled with writing rather than an icon, so it's obvious what function it performs.
All models will feature the same center console of rocker switches and an overhead row of rocker switches on the headliner. This will house functions such as the front and rear electronic differential locks, while the central differential lock is operated manually via a lever on the center console next to the original BMW gear selector.
Additional panels in the roof are available to control electronic extras such as dome lights or a winch; pre-wiring for these panels and accessories comes as standard, while the Grenadier will also offer an optional 2,000 watt AC converter to run a variety of different accessories, such as power tools.
As well as the BMW-sourced powertrains, Ineos Automotive has sourced the German brand's infotainment system, with the 12.3-inch touchscreen (also controlled by a rotary dial on the transmission tunnel) using the BMW's operating system. However, the Grenadier graphics are bespoke.
Navigation will be via Apple CarPlay or Android Auto connectivity – a move Ineos says will help improve usability, integrate with owners' devices and stop tech dating. There is also an off-road search function given the intended use and capabilities of the Grenadier.
Cabin materials are hardwearing with an element of luxury – touches such as a saddle leather option for the steering wheel add a tactile feel but will also age with the car, "giving it a patina" according to Squire.
Splash-resistant cloth upholstery is standard for seats sourced from Recaro, which is treated to repel spills and stains, while leather will be an option more geared towards lifestyle buyers.
Isofix points will also be fitted, while interior storage has been maximised, with clever use of space to store anything from phones, wallets and keys. Items needed for lifestyle activities can also be stowed in areas such as the tailgate-mounted spare wheel hub compartment, a lockable center console and a slide-out dry storage area under the rear seats.
Rubberized flooring with drain plugs will also be standard, while buyers can specify carpet as an extra. The first enhances the usefulness of the Grenadier, allowing the car floors to be watered down. All switching devices inside the cabin are also splash-proof.
It's all part of the relatively young automaker's promise that the Grenadier – and everything in it – will stand the test of time, aided by Ineos removing complexity from the car. There are about half the number of ECUs inside the Grenadier next to a comparable vehicle, meaning there's less to go wrong and less to fix if something goes wrong.
Check out Twisted's plans for Electric Land Rover Defenders here..